What Should I Write In My Bumble Bio? (Complete Guide)
Looking for the perfect date but can't find one on Tinder? Who knows, your potential date may be waiting for you on other dating apps like Bumble.
In this guide, I am going to offer some of the best tips to help you write an attractive Bumble profile bio.
Why is Bumble Popular?
While there are plenty of online dating apps that claim to help people find their soul mates, there are few like Bumble. The incredibly popular dating platform offers a simple and convenient way for users to find their dream date. Unlike other apps, Bumble doesn't require you to write long profiles and bios. So you might be wondering, how do you write a profile that stands out? I'm glad you asked…
What Should I Write in My Bumble Bio?
The first step to writing any good Bumble dating bio is to be true to yourself. Less is generally more, so try to keep your bio short and to the point – save your life story when you start messaging someone! You should also highlight your personality and character in your bio, and don't be afraid to show off. If you're a talented painter, let the world know. If you're a comedian, include a joke. The best bios are the ones that are true reflections of your personality.
What Makes a Good Bumble Bio?
A good Bumble bio will succinctly tell anyone looking at your profile who you are, what you're looking for, and a little bit about your interests. You want your potential matches to be able to know a little bit about you before they decide to match with you or not, and you're also trying to convince people to match with you.
Consider adding information about what you do for a living, what you enjoy doing in your free time, and some of your interests. Not only will this allow other users to get to know you before matching with you, but you might have something in common, which gives you two something to talk about right off the bat.
Leaving your bio empty is the recipe for failure. It greatly reduces your chances of getting likes and suggests that you aren't serious about dating. Don't shy away from being random and a little self-deprecating, but add some conversation starters and insight instead of trying to act cool or cute.
Learn what to do if your Bumble conversations are going nowhere. 
How to Write the Best Bumble Bios
One of the best ways to write an interesting Bumble profile bio is, to be honest. Simply be yourself and show off your funny side through your prompts and bio. The whole point is to give your potential dates a hint of your personality.
Here are some examples.
Every time I go trekking, I end up shopping for another pair of heels and eating pizza.
I love coffee and books more than I love Netflix and pizza.
However, you also have to be sure that your bio is clear, short, and makes an impact.
How to Write Nice and Short Bumble Bios
Bumble only gives you 300 characters to create a bio. This means you should be using all of the available space. Your Bumble bio should be long enough to pique the reader's interest in your personality, but not so long that it bores them. Similarly, it should be short enough to leave some mystery, but not so short that the reader doesn't learn anything about you. You can use the Bumble profile bio to highlight your great taste in music, show off your funny side, or your strengths.
Need help improving your profile? My dating profiles can help!
Best ways to write a catchy Bumble bio:
About Me / About You Bio
This format is great for listing your unique details and the things you would like to see in your potential date.
For example:
Matt, 35

About Me: Sweats all week to spend the weekend up in the mountains. Loves dogs and is not afraid to ask you for a dance.

About You: Adventurous and outgoing. Someone who is not afraid to try out new things. Loves eating, trekking, and spending time with dogs.
Rebecca, 30

About Me: I can watch a horror movie every night! I love pizza, coffee, and anything that can make me laugh.

About You: You are not afraid to admit your mistakes or apologize. Someone who can eat ice cream every day!
Greater than/Less than Bio
If you are looking forward to initiating a conversation, this is a nice way to write your Bumble profile bio. You just have to touch on a few controversial subjects that can spark a debate. Now that's a nice way to voice your opinions and get to know what your potential date thinks about the subject.
You can compare TV shows, food options, cities, museums, movies, and just about anything you want.
Here are a few examples:
Jim, 24

Country life < City life

Oceans > Beaches

Iron Man > Any other superhero movie
Tania, 25

Cold pizza < Leftover lasagna

Shorts > jeans

Thanksgiving > Christmas
First and Last bio
This type of profile bio gives a glimpse of what's trending in your life. You can list the last book you read, the first movie you ever saw, or the latest vacation trip you enjoyed. Such a profile bio allows you to reveal your hobbies, passions, and preferences.
Here are some Bumble bio examples
Jenny, 29

First…

Job: cashier at Macy's

Crush: Chris Hemsworth

Movie: Thor
Frank, 27

Last…

Book I read: Unfinished by Priyanka Chopra

Thing I ate: Spaghetti and meatballs

Place I visited: Texas for a cousin's wedding
Three Simple Things Bio
We all love talking about the things we love doing. This type of profile bio lets you reveal what's interesting about your life and your personality. Choose this format to share random things about yourself:
Here are some examples.
Fred, 40

I love drinking three cups of coffee every morning, eating salad for lunch, and a huge pizza loaded with cheese for dinner.
Rex, 22

Christmas is my favorite holiday because I can ask for gifts shamelessly. My favorite superhero movie is Black Panther because I can't get over Chadwick Boseman.
Flaunt Your Most Attractive Traits
Bumble is the only dating app where women have to message the men first. The best Bumble bios for males feature interesting facts and trivia. Consider this opportunity to sell your personality to attract potential matches.
Showing off what's best about you can be another way to attract attention from others. Your Bumble profile bio should be impressive enough to initiate a conversation. Just don't sound like you are bragging.
For example, if you are writing something like 'I love oil painting,' don't forget to add a picture of yourself displaying your best work.
You can also connect your Instagram to Bumble so potential matches can check out your hobbies and passions.
Another way is to include specific details that make your Bumble profile more authentic.
Are you struggling to get replies? Let me help you take your text conversations to the next level. 
Pros & Cons
If we're being honest, most people want to evaluate your qualities before they get to know you, like shopping for a new appliance. They want to know your perks and drawbacks and whether they can get a refund if they don't like what they got!
The best dating profile bios are those aware of this fact and acknowledge the absurdity of using dating apps without being bitter about it. Your pros and cons list can be as funny or sincere as you want it – be sure to stay lighthearted, and don't be too self-deprecating.
Let's look at some examples:
Jason, 24

Pros:

Great with pets
Extremely active
Master hugger

Cons:

Expert snorer
Hyperactive
Smart car driver
Elizabeth, 25

Pro: I love fast food

Con: terrible cook, so takeout is my savior

Pro: I love cats

Cons: horribly allergic to cats

Pro: super smart shopper

Con: refuse to pay full price for anything
Unpopular opinions
Are you the only person you know who doesn't like Friends? Do you believe that pineapple belongs on pizza? Some of the best dating profile bios in the world foster a fun, lighthearted debate.
Listing some unpopular opinions in your Bumble bio shows that you're confident and ready to have fun chats with your matches. And nothing brings two people together like bonding over a mutual dislike of something.
Here are a few examples:
Sonique, 21

Unpopular opinions…

Starbucks makes bad coffee. The book is always better than the movie. Ryan Reynolds is not that hot.
Brad, 22

Licorice is the best candy. Beers taste bad. Pineapple does NOT belong on pizza.
Two Truths & a Lie
Being funny isn't the only way to win over someone's heart. Another great way to get the conversation started and still inject some humor into your Bumble bio is to play the game of Two Truths and a Lie with your matches.
It's a great way to compel people to match with you and figure out which part of your bio is the lie!
Let's see some examples:
Sadie, 26

Two truths and a lie…

I grew up in London. I'm missing my right ring finger. I won a beauty pageant when I was 10.
Daniel, 24

Two truths and a lie:

I trained my cat to respond to commands like a dog. I teach a pottery class every weekend. I was a ballerina for five years.
Your favorite things
Everyone has a few favorite things, and a great way to start the conversation with your Bumble matches is by listing a few of your personal favorites. It's also a great way to find something in common with someone – there's always going to be someone who loves classical music, reading, and park walks as much as you two.
It's a recipe for some amazing chemistry. Here are a few examples:
Jack, 23

My faves:

Taking a hot shower for hours, reading next to a fire, sunsets, swimming in the ocean.
Coretta, 21

Some of my favorite things…

Sleeping late on my days off, long weekends, cheap cocktails, running, yoga, and animals with so much fluff.
Daniel, 27

My favorites:

Waking up early on a crisp winter morning, dinner around the campfire, spontaneous road trips, spontaneity in general.
By day/by night
We all have a daytime personality and a nighttime personality, so why not showcase what yours are in your Bumble bio? Maybe you're well-adjusted when the sun's out, but you turn into a brooding hottie when nighttime hits.
This is also a great opportunity to bring some self-deprecation into your bio without appearing too self-pitying. You'll be able to relate with other people who feel the same and get the conversation going about who you are.
Let's see some examples:
Lucy, 25

A journalist by day, wine connoisseur by night.
Michael, 23

Normal functioning human by day, total hot mess by night.
Frankie, 20

A reclusive introvert by day, insane social butterfly by night.
Bumble Prompts
Prompts act as conversation starters for this popular dating profile. They help you reveal your story if you can't write a compelling bio. You can display your lifestyle, personality interests, and just about anything through prompts. Prompts can be your best friends if you don't like talking about yourself too much or you are too shy to post pictures.
Any woman who previously swiped left could react to a specific prompt that is relevant to her interests. That's the reason why you should update your Bumble prompts once a week to keep your options open.
Prompts also make it easier for women to use the Reaction feature for sending you an emoji. They can also send you a message in response to your answers.
Since users can include only three prompts, remember to choose the best ones for your profile.
Bumble prompts or 'My Move Makers' follow the same format as Hinge. You can select three prompts from over 30+ prompts and get 120 characters for writing each answer that will be displayed in between your pictures.
You can list your strengths, weaknesses, talents, hobbies, or passions through your prompts if you don't want to include them in your bio.
Here are some examples:
What makes a relationship great is… love, friendship, and honesty
My personal hell is…living with someone who doesn't like music
We'll get along if…you agree to eat my homemade pizza
About Me
This section of your Bumble profile is the free-form bio section of your profile. You may feel a little limited when it comes to writing what you actually feel because there are only a handful of prompts out there. You can stand out from the crowd with the headlines section of your profile.
If you don't have spellbinding pictures with amazing backgrounds to impress others, you can encourage others to know more about you with this section. That way, you allow others to know how you spend your free time or what you plan on doing with your life in the future.
Don't regurgitate information about your location or age. Rather, figure out something unique to write. Creating a solid bio by adding something different will increases your chances of connecting with your dream date.
Filter by badges
You don't want to waste time connecting with people you won't see after the first date. But how do you make sure you don't connect with them in the first place?
Badges help you find like-minded individuals to reduce your chances of hooking up with the wrong date. If you add badges to your profile, you can increase your chances of matching with the right person. Basic info badges are great ways to share more about your likes and preferences on the platform. The more information you leave on your profile, the higher your chances will be to make matches. You can find options for badges underneath your basic info.
Here is how to add badges.
On the bottom-left corner of your Swipe Queue, tap on the grey silhouette
Go to 'Complete my profile' under your picture
Choose 'Badges' underneath your basic info
Try to fill out as many badges as possible
Integrate your Spotify Account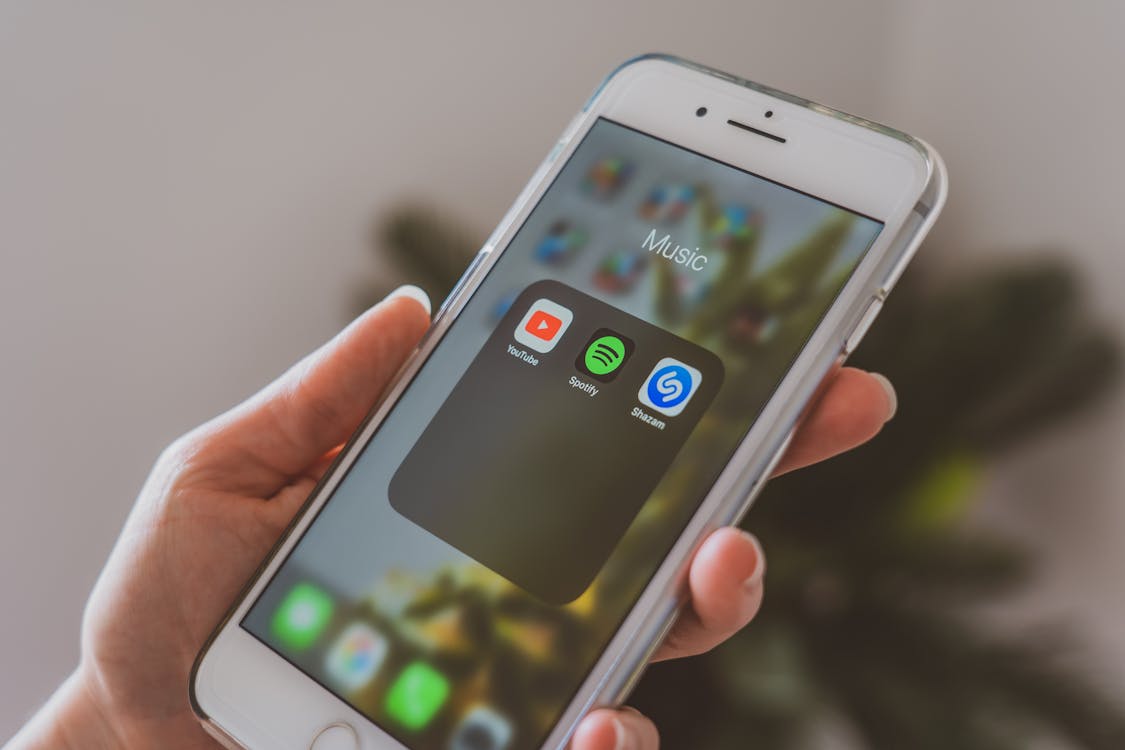 Initiating a conversation becomes easier if you have something in common. For instance, my love for music.
If you integrate your Spotify account into your profile, you will get more opportunities to connect with the right person. That's a great feature to direct more attention to your bio.
Here are the steps you need to follow to connect your Spotify account to your Bumble profile.
Go to the bottom left corner of your screen and click on the grey silhouette
Choose 'Complete my profile' in the circular photo to open the profile editor
Browse Linked Accounts
Select the green bar that displays 'Connect your Spotify'
Enter your login details for Spotify to log in
Accept the Terms & Conditions of use
Bumble Bio Mistakes to Avoid
It's all well and good to know what you should be putting in your Bumble bio, but there are some critical errors that you will also want to avoid. Let's look at them now.
Too much detail
This is a mistake I see all too often, and it can mess with your chances of getting likes. The last thing you want is for your bio to become a short story or get too personal because let's face it, people don't go onto dating apps to read autobiographies.
Remember, you only have 300 characters of space for your bio and up to 120 characters for your prompt answers. Keep your bio and prompt answers concise, clear, and engaging.
Listing uninteresting interests
I can probably guess that you like cooking, food, movies, and walking. I'm not a mind reader – those are just passions you share with about 90% of the planet's population!
It helps to avoid listing many cliche interests, and if you are genuinely interested in more mundane things, try to present them excitingly. And be specific.
What kind of food do you like?
Where do you enjoy walking the most?
What's your favorite dish to make?
What are interesting facts about yourself?
Where do you want to visit?
Spend some time thinking about your unique traits and interests and be sure to highlight them in your bio and prompt answers.
Playing it safe!
If you aren't showing people that you're interesting, they will swipe right past your profile. If your profile doesn't stand out as interesting or unique in some way, most people are not even going to see it – it'll be like you don't exist.
Again, find ways to stand out from the sea of generic Bumble profiles. Be sure to upload a variety of interesting photos that show different aspects of your life. Let potential matches know what you have to offer and what you're looking for to attract the right types of prospects. It's OK to be a bit different when everyone is so worried about their online appearance.
Get Professional Dating Profile Services for your Bumble Profile Bio
If you have trouble writing a convincing Bumble profile bio, I can help. I am a seasoned online dating ghostwriter who can help you reveal the most interesting parts of your personality and lifestyle.
Whether you want to share your interests or grab instant attention with your Bumble profile, get in touch with me today to help you create an impressive Bumble bio. You can find out more about how to find your dream date on other dating apps like Hinge or Tinder on my blog.